Additive Manufacturing Facility: 3D Printing The Future in Space
In 2014, Made In Space (MIS), in partnership with NASA, made history by manufacturing the first object ever produced off the Earth. This defining moment symbolizes the vision of our company — to develop manufacturing capabilities in microgravity that would support the long-term industrialization of space. From that historic milestone, we developed a permanent manufacturing facility on the International Space Station (ISS), our Additive Manufacturing Facility (AMF), that has ushered in a new era of manufacturing in orbit.
AMF is our flagship technology onboard the ISS and its versatility and durability have made it a reliable resource for government and commercial customers since its activation in 2016. With nearly three years of successful operations, it has produced 115 tools, assets, and parts in orbit. AMF's legacy has been the foundation for our technology roadmap and manufacturing programs as we develop new capabilities that will leverage additive manufacturing in space for unprecedented applications.
Expanding applications through different materials
AMF is the first-ever, commercial facility to print with ABS, PEI-PC, and HDPE polymers in space. These materials are approved for ISS operations, making them default selections for AMF to print with, but the facility is designed to print with over 20+ materials making it incredibly adaptable for future mission design and support.
Each of the three materials that AMF currently prints with have distinct properties that make them suitable for numerous applications. MIS has been able to demonstrate AMF's versatility by printing with these materials for a variety of applications. Check out the features of these materials below:
Acrylonitrile butadiene styrene (ABS)
ABS is one of the most commonly used filaments in 3D printers on Earth and, through AMF, off the Earth as well. ABS was the first material that AMF printed with, upon activation, in Spring 2016. One of the main advantages of printing with ABS is that it's very affordable and recyclable. Additionally, the material is tough, making it useful for intravehicular, structural applications. ABS can be used for printing tools and parts, such as wrenches; nuts; bolts; sockets; cable mounts and more. However, the material does not lend itself to extravehicular applications as it isn't able to withstand extended exposure to constant radiation.
Polyetherimide/Polycarbonate (PEI/PC)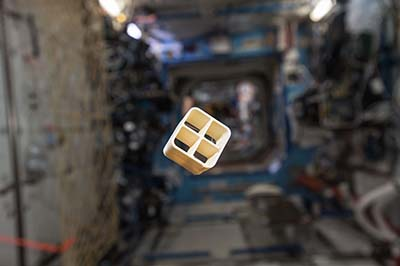 PEI/PC is an aerospace-grade polymer that produces stronger, more heat-resistant materials. Several blends of this polymer have been used within the commercial aerospace industry. AMF first printed with PEI/PC in July 2017. The material has nearly three times the tensile strength of ABS which considerably extends the range of applications which can be manufactured on orbit. It also can survive the temperature swings and vacuum environment of low Earth orbit, making it suitable for use in the creation of satellite parts and EVA tools.
PEI/PC has been used in development of satellites structures, aircraft cabins and even for a component on an United Launch Alliance Atlas V rocket. PEI/PC is a space-capable material that is widening the aperture of what is possible to manufacture in a space environment. Currently, MIS is leveraging AMF's successful printing with PEI/PC to inform our Archinaut Program — a suite of next-generation capabilities that will manufacture, assemble, and integrate space-optimized systems (reflectors, antennae, trusses, etc.) in orbit.
High-Density Polyethylene (HDPE)
HDPE is a is a thermoplastic known for its resiliency. The material is used to produce plastic bottles, prosthetics, pipes and certain blends of HDPE have been studied as a shielding source for spacecrafts. Made In Space is using a green plastic (GreenPE), a polyethylene made from sugar cane, on the ISS. The GreenPE being used in orbit was developed by our industry partner Braskem. AMF first printed with GreenPE in October 2016, manufacturing a pipe connector for a vegetable irrigation system on ISS. This renewable material was selected because of several inherent properties including flexibility and recyclability. AMF's versatility to print with a renewable polymer in space is an important advantage for sustainability on Earth as well as in space.
Many prints, many 'firsts'
As the first commercial 3D printer installed and operating on the ISS, AMF has produced many memorable prints for a variety of customers.
The first commercial part ever produced in space was printed June 2016 — a Kobalt wrench.
In January 2017, AMF printed a customized finger splint, which marked the first medical supply to ever be printed in orbit.
In February 2017, the first piece of art was 3D printed in space.
In July 2017, AMF became the first commercial 3D printer to print with PEI/PC in space. PEI/PC is the third material to be used in AMF.
Paving the way for new capabilities
AMF has led the way for MIS to develop next-generation capabilities. The ability to manufacture plastics, metals, and electronics based the versatility of AMF's technology has resulted in a broad and expanding technology portfolio. Our range of capabilities are designed to support the unique needs of commercial space, defense and broader industry innovation. Thanks to AMF's success and newer capabilities being brought to market, MIS is established as the industry leader in space manufacturing. We look forward to furthering the legacy of this pioneering technology through more successful operations and the configuration of more innovative manufacturing capabilities in space.
To get more information on AMF and to check out all its specs, visit: http://madeinspace.us/projects/amf